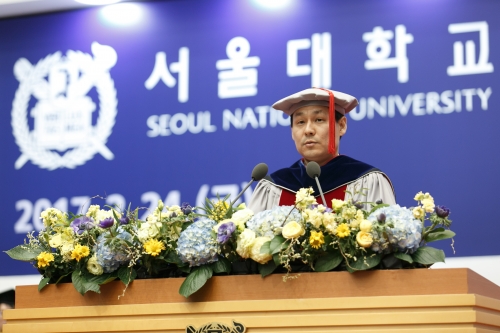 Professor CHO Kyujin gives commencement speech
SNU's 71st Graduation Ceremony was held on February 24, 2017. A total of 4.925 degrees were conferred, including 2,422 bachelor's, 1,804 master's, and 699 doctoral degrees.
Professor CHO Kyujin (Department of Mechanical and Aerospace Engineering, College of Engineering), a leading scientist in the soft robot engineering was chosen to give the commencement speech at the ceremony.
Professor Cho told graduating students how they can better live out the new era of the 4th industrial revolution which has been changing the way we live.
"In the era of the 4th Industrial Revolution, chances are given to those who are willing to let go of perfectionism."
Cho asked students to be careful with their perfectionism, noting that the agony of perfectionism has long been appreciated as a virtue at SNU."Don't think of yourself as Sisyphus who rolls the boulder up to hill only to watch it roll back to you. You don't have to be perfect. The thing you just tossed up to the unknown can become a far more interesting and totally different thing next moment in this new era of 4th revolution."
Professor Cho also urged the non-engineer students, who could have been discouraged or even 'depressed' for this new revolution, to involve themselves in it rather joyfully."There are numerous engineers who can 'code' your ideas. Let us change the world together."
Professor Cho gave a making story of his 'Exo-Glove', a soft robot that helps the people with hand disabilities. He explained that the robot, the world's first of its kind, had been created by not dismissing a simple request of a disabled person about what he really want as a human. Cho encouraged the class of 2017 to dare to become a 'creator', for the world is filled with so many unrealized wishes.
Full speech translation is attached.